Thank you for your interest in upgrading to our Lollipop Smart AI Diary feature. We're delighted that you want to take advantage of this innovative tool to document your baby's precious moments effortlessly.
Upgrading to

Lollipop Smart AI Diary

:
Currently, the Smart AI Diary feature is available exclusively for in-app purchases. To upgrade and unlock the full potential of Smart AI Diary, please follow these steps:
Open the Lollipop Baby Monitor App: Launch the Lollipop Baby Monitor app on your mobile device.
Access the Smart AI Diary Feature: Navigate to the Smart AI Diary feature within the app.
Choose Your Subscription Plan: You will have three different subscription options to choose from. Select the plan that best suits your needs and preferences.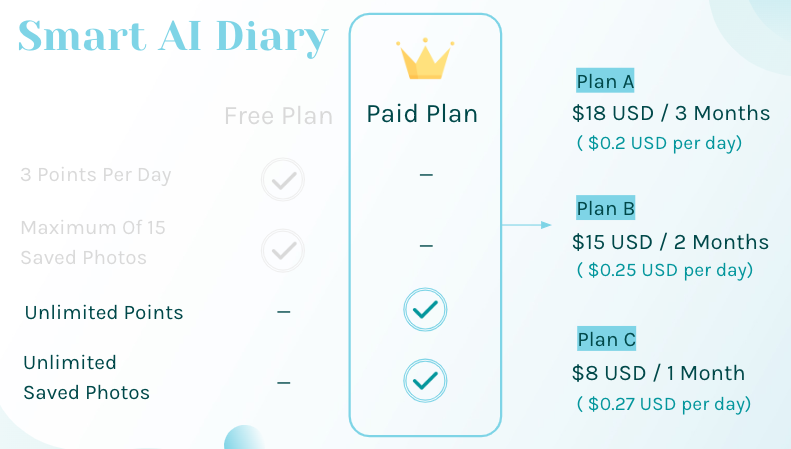 Complete the Purchase: Follow the on-screen prompts to complete the purchase of your chosen subscription plan. You will be asked to provide payment details for the subscription.
Shared Account Recording: Once a purchase has been made on the main account, all shared accounts can also enjoy the benefits of Smart AI Diary and jointly record their baby's moments.
Please note that subscriptions are charged to your credit card through your Apple Store or Google Play account, depending on your device. After the purchase, you can manage your subscriptions directly through the respective Apple Store or Google Play account. Your subscription will automatically renew unless canceled at least 24 hours before the end of the current subscription period. Once activated, you cannot cancel your subscription. However, you can turn off auto-renewal at any time after purchase by going to the Settings section in the App Store or Google Play.
We hope this guide helps you upgrade to Lollipop Smart AI Diary and save your baby's milestones and favorite moments. If you have any further questions or encounter any issues during the process, please don't hesitate to contact our customer support team at support@lollipop.camera. We're here to assist you.