We want to help you maintain a quality connection, always. If you're seeing frequent disconnections in your live video stream or audio monitor streaming, there are a few things you can try below to ensure you're getting the best connection every time:
1. Make sure your Wi-Fi network is available and working
Lollipop Camera uses your home Wi-Fi network to stream video continuously. You can run the following test below to determine if your Wi-Fi network is available and well-working.
Connect your phone or tablet to the same Wi-Fi network that your Lollipop camera is connected. If your Wi-Fi network is not available, there may be an issue with your router.
Open a web page on your device to see if the page loads. If the page doesn't load, there may be an issue with your internet connection. Please kindly contact your Internet Service Provider for further assistance.
2. Run Network Diagnosis feature
Please kindly run the Network Diagnosis feature to know more information about the current network connection of Lollipop Camera.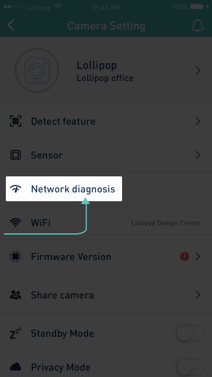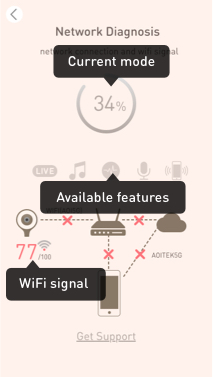 Current mode
Indoor: Your phone and the camera are under the same Wi-Fi
Outdoor: Your phone and the camera are under the different Wi-Fi
Private: not allow video streaming out of your home network
Wi-Fi signal
Please place the camera closer to your WiFi-router. Signal lower than 70 is considered as unstable network environment.
Available features:
Some features might be restricted in outdoor mode.
3. Reboot your Wi-Fi AP
If your camera is disconnected and unable to reconnect again, we suggest restarting your router, modem, and any Wi-Fi extender. Keep in mind, each router and modem is unique, so your steps to restart may be different.
4. Restart Lollipop Camera
Please kindly unplug the camera and replug it back to restart the camera. This would help the camera to reestablish the connection with your Wi-Fi network.
5. Update Firmware
We have constantly improved the performance of the camera by releasing new version of the camera's firmware. Please kindly make sure that your camera has the latest firmware to enable a better user experience.
6. Contact our Support Team
If you are still having issues, please kindly click the email icon at the right side of the browser to get contact with our customer service team. They will do their best to help you.