If you want to cancel or change your subscription, follow the below steps to adjust it:
Log in to our website: https://my.lollipop.camera/user-setting?tab=subscription
Go to the Subscription section, and you can see all your subscription details.
Under "Option," click "Cancel Subscription."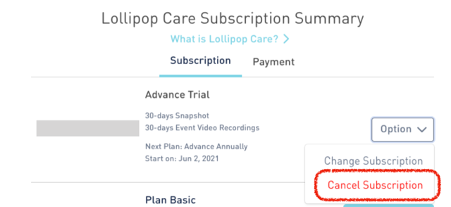 🍭Please note:
Monthly plan: We do not provide any refunds for the monthly plan of Lollipop Care, as it is billed in advance on a month-by-month basis. All changes will be adjusted after the end of each month and carried out to the next month if your subscription plan is monthly.
Annual plan: You'll get a refund based on the percentage of unexpired Lollipop Care plan coverage, minus the value of any service already provided.
You can turn off monthly or annual auto-renewal subscription of Lollipop Care anytime.
🍭Need more help? Tell us how we can help.
Submit a request and we'll provide further assistance.
Get Lollipop Support >